Speakers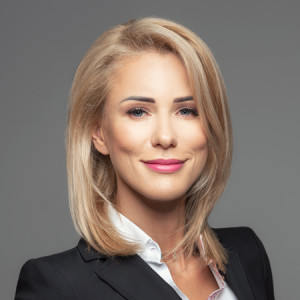 Sylwia Majewicz
President
Podlaskie Zakłady Zbożowe SA
Sylwia Majewicz since 2016 the president of Podlaskie Zakłady Zbożowe S.A. in Białystok specializing in the production of cereal products. A graduate of Economics at the University of Warsaw; she gained many years of experience working in international grain trade for global companies.
Father Stanisław Pietruszyński, the founder of the family business, among others Agrocentrum, a well-known company in the feed industry, gave his daughter a talent of entrepreneurship.
 Podlaskie Zakłady Zbożowe under the management of Sylwia Majewicz won the title of Podlaska Marka Roku, modernized the mill in Białystok , increasing the production capacity several times.
Participates in the sessions:
New trends on the food market

Where is the market heading? Millennials, growth of affluence, development of digital technologies. Preferences of informed consumers
On a carousel of trends. A new offer for food producers
Top quality food, superfood, unprocessed and natural products
Marketing strategies, packaging and distribution versus life styles. Known brands newly presented

New trends on the food market
BACK
---
New Privacy Policy and information clauses
In connection with visiting our websites, we process your IP address, cookies and similar data on user activity or devices. If these data allow to identify your identity, then they will be treated as personal data in accordance with the Regulation of the European Parliament and of the Council 2016/679 (GDPR).
The administrator of this data, goals and grounds for processing and other information required by the GDPR can be found in the Privacy Policy under this link.
If you also use other services available through our services, we also process your personal data provided when creating an account, registration for events, subscription, newsletter, alerts and online services (including Premium Zone, reports, rankings or licence for reprints).
The administrator of this data, goals and grounds for processing and other information required by the GDPR can also be found in the Privacy Policy under this link.
Data collected for the needs of various services can be processed for different purposes, on different grounds and by different data administrators.
Remember that in connection with the processing of personal data you have a number of guarantees and rights, and above all the right to revoke the consent and to object to the processing of your data. These rights will be strictly observed by us. So if you do not agree with our assessment of the necessity of processing your data or if you have other reservations in this regard, be sure to submit an objection or send us your objections to the address odo@ptwp.pl. The withdrawal of consent shall not affect the lawfulness of processing based on consent before its withdrawal.
At any time, you can define the conditions for storing and accessing cookies in your web browser settings.
If you agree to use of cookie technology, please click the below "Go to the website" button.
Management Board of PTWP-ONLINE Sp. z o.o.