Speakers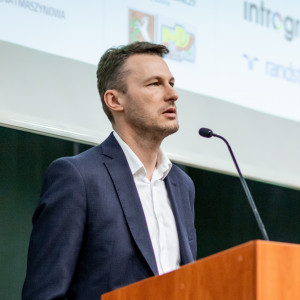 Robert Bronisz
Director and Vice President of the Management Board of ABM Greiffenberger Polska, a part of the senata Group. President of the Management Board of the Automotive and Machine Upland Cluster, Member of the Senate of the Lublin Business Club Association.
At ABM Greiffenberger, was responsible for the whole "greenfield" project of launching production in the Special Economic Zone in Lublin, including the employment of 320 employees, training in Germany, supervision over the project and construction of the BTS building of the Factory in Lublin, installation of technology and launching production. A native  Lublinian for 19 years associated with the area of production management in all its aspects, as the head of the production, maintenance and logistics department. As Managing Director, he managed the production plant of the Armatura S. A. Group and previously worked for the Ball Packaging Europe Group, supporting the "greenfield"; project of opening a new factory in Poland. He carried out projects from the production and technical department throughout Europe. The beginnings of his career were related to the food industry, closely linked to his education at the University of Life Sciences, specialising in Food Engineering.
BACK
---
New Privacy Policy and information clauses
In connection with visiting our websites, we process your IP address, cookies and similar data on user activity or devices. If these data allow to identify your identity, then they will be treated as personal data in accordance with the Regulation of the European Parliament and of the Council 2016/679 (GDPR).
The administrator of this data, goals and grounds for processing and other information required by the GDPR can be found in the Privacy Policy under this link.
If you also use other services available through our services, we also process your personal data provided when creating an account, registration for events, subscription, newsletter, alerts and online services (including Premium Zone, reports, rankings or licence for reprints).
The administrator of this data, goals and grounds for processing and other information required by the GDPR can also be found in the Privacy Policy under this link.
Data collected for the needs of various services can be processed for different purposes, on different grounds and by different data administrators.
Remember that in connection with the processing of personal data you have a number of guarantees and rights, and above all the right to revoke the consent and to object to the processing of your data. These rights will be strictly observed by us. So if you do not agree with our assessment of the necessity of processing your data or if you have other reservations in this regard, be sure to submit an objection or send us your objections to the address odo@ptwp.pl. The withdrawal of consent shall not affect the lawfulness of processing based on consent before its withdrawal.
At any time, you can define the conditions for storing and accessing cookies in your web browser settings.
If you agree to use of cookie technology, please click the below "Go to the website" button.
Management Board of PTWP-ONLINE Sp. z o.o.