Speakers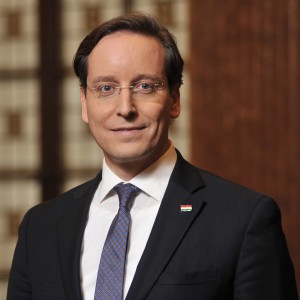 Balázs Rákossy
Secretary of State for the Utilisation of European Union Funding
Ministry of Finance, Hungary
Place and date of birth:
• Pécs (Hungary), 1971.
Foreign languages spoken:
• English, German, French, Russian 
Professional career:
• 2014-: State Secretary for EU Funds
• 2013-2014: Chief of Staff of the Minister for National Economy, Ministry for National Economy
• 2012-2013: Chief of Staff of the Minister Responsible for Liaison with International Financial Organizations
• 2010-2012: Chief of Staff of the Minister of State for the Prime Minister's Office
• 2008-2010: Chief Legal Officer, MOL Plc
• 2008: Chief Legal Officer, British American Tobacco Hungary
• 2006-2008: Chief Legal Officer for the CEE Region, Pfizer CEE Headquarters, Brussels
• 2004-2006: Chief Legal Officer, Pfizer Hungary Ltd
• 2002-2004: Chief Legal Counsellor, Hungarian Delegation of the European Commission
• 1998-2002: Chief of Staff of Fidesz Parliamentary Group Leader
• 1995-1998: Barrister in Embryo
Qualifications:
• Legal expert in capital markets and banking law, Péter Pázmány Catholic University (2018)
• Master of Laws, Member of the Hungarian Bar Association (1999)
• University of Oxford, University College, Magister Juris (LL.M.) in European and Comparative Law (1997)
• Maastricht University, LL.M. in European and Comparative Law (1996)
• Janus Pannonius University, Pécs (Hungary), Faculty of Law, Juris Doctor (1995)
Social responsibility activities and awards:
• President for Social Relations at PVSK (Pécs Sports Club) (2018-)
• President of Pécs VSK-Veolia 1st Division Men's Basketball Club (2015-)
• Member of the Club Friends of Baranya County (2016-)
• Zsolnay Award for Contributing to Baranya County Economic Development (2017)
Participates in the sessions:
Plenary session: 15 years in the European Union

Benefits of being an EU member. Experience of Poland, Baltic states and Slovakia?
In search of a new Europe. A need for a fresh view
After the European elections – power structure, expectations and projections
Europe versus protectionism, trade barriers and limitations
Eastern neighbourhood in a new Europe. Opportunities and threats for Poland and the Baltic states
How will the EU's future budget respond to social challenges and expectations?
Fifteen years of Eastern Poland – effects of changes. The role of support from the European Union

Plenary session: 15 years in the European Union
BACK
---
New Privacy Policy and information clauses
In connection with visiting our websites, we process your IP address, cookies and similar data on user activity or devices. If these data allow to identify your identity, then they will be treated as personal data in accordance with the Regulation of the European Parliament and of the Council 2016/679 (GDPR).
The administrator of this data, goals and grounds for processing and other information required by the GDPR can be found in the Privacy Policy under this link.
If you also use other services available through our services, we also process your personal data provided when creating an account, registration for events, subscription, newsletter, alerts and online services (including Premium Zone, reports, rankings or licence for reprints).
The administrator of this data, goals and grounds for processing and other information required by the GDPR can also be found in the Privacy Policy under this link.
Data collected for the needs of various services can be processed for different purposes, on different grounds and by different data administrators.
Remember that in connection with the processing of personal data you have a number of guarantees and rights, and above all the right to revoke the consent and to object to the processing of your data. These rights will be strictly observed by us. So if you do not agree with our assessment of the necessity of processing your data or if you have other reservations in this regard, be sure to submit an objection or send us your objections to the address odo@ptwp.pl. The withdrawal of consent shall not affect the lawfulness of processing based on consent before its withdrawal.
At any time, you can define the conditions for storing and accessing cookies in your web browser settings.
If you agree to use of cookie technology, please click the below "Go to the website" button.
Management Board of PTWP-ONLINE Sp. z o.o.